Afghanistan
---
Social indicators
| | |
| --- | --- |
| Population growth rate (average annual %) | 2.5(2017) |
| Urban population growth rate (average annual %) | 4 (2010-2015) |
| Rural population growth rate (average annual %) | 1.9( 2010-2015) |
| Urban population (%) | 26.3 (2014) |
| Population aged 0-14 years (%) | 45.8 (2014) |
| Population aged 60+ years (females and males, % of total) | 4.3/3.6 (2014) |
| Education: Primary-secondary gross enrolment ratio (f/m per 100) | 64.9/99.4 (2007-2013) |
| Sex ratio (males per 100 females) | 102.8 (2014) |
| Life expectancy at birth (females and males, years) | 62.0/59.5 (2010- 2015) |
| Infant mortality rate (per 1 000 live births) | 67.3(2010- 2015) |
| Fertility rate, total (live births per woman) | 5.0 (2010- 2015) |
Economic Indicators
| | |
| --- | --- |
| GDP per capita | 707.6 USD ‎(2013) |
| GDP growth rate at constant 2005 prices (annual %) | 6.4 ‎(2013) |
| GDP: Gross domestic product (million current US$) | 21618 (2013) |
| GNI: Gross national income per capita (current US$) | 707.6 (2013) |
| Agricultural production index (2004-2006=100) | 120 (2013) |
| Food production index (2004-2006=100) | 120 (2013) |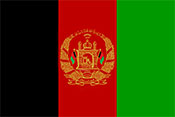 National Focal Points for Environment: The National Environmental Protection Agency (NEPA) Established in 2005 to serve as Afghanistan's environmental policy-making and regulatory institution to regulate, coordinate, monitor and enforce environmental laws- www.nepa.gov.af
Afghanistan is a member of SACEP since 1985 and Mr. M.J. Kazem served as the Second Director from 1985 - 1988.
Capitals: Kabul
Dialing code: +93
Currency: Afghan afghani
President:Mohammad Ashraf Ghani
Population: 30.55 million (2013) World Bank
Languages: Pashto and Dari
Area: 652,864 sq km
National Focal Points for Environment: The National Environmental Protection Agency (NEPA)
Country's Environmental Profile
Afghanistan is a semi arid and landlocked mountainous country buffered by the Hindu Kush mountain ranges. The country is the 41st largest in the world in size and lies at the intersection of three of the world's biogeographic realms: the Palearctic, Indomalayan, and Afrotropic bioregions.
Natural resources and associated biological diversity provides the livelihood basis for up to 80% of the Afghan population. Biodiversity resources in Afghanistan comprise an estimated 3,500-4,000 native species of vascular plants, 428-515 bird species, 137-150 mammal species, 101-139 fish species, 92-112 reptile species, and 6-8 amphibian species (UNEP 2009).
Rangelands of Afghanistan occupy about 30 million hectares, representing roughly 45 per cent of the country's territory. However large areas which are considered 'barren land' or 'waste land' are also used for grazing, particularly in winter. The total grazeable area is therefore much larger, estimated at 70–85 per cent of the total land area, providing habitat and forage for nearly 35 million livestock as well as numerous wild animals.
Afghanistan is an agrarian country, with up to 80 percent of the population involved in farming or herding, or both, however agricultural production is limited by very high dependence on water from melting snow and ice and rainfall.
Almost all of the country's known oil and natural gas reserves are in the northern part of the country, located in parts of two geologic basins – gas in the Amu Darya Basin to the west, and oil in the Afghan-Tajik Basin to the east. Afghanistan has reasonably good quality coal reserves (estimated at 400 million tonnes), most of which are located in the northern part of the country in the region between Herat and Badakshan.
Country's Environmental Profile
Designation Type/ Name of Protected Areas
Status
Year of designation
Area (km2)
IUCN category
National Park
Ajar Valley
Proposed
2003
296.01
Not Reported
Nuristan
Proposed
0.00
Not Reported
Provisional National Park
Band-e-Amir
Designated
2009
613.30
II
Waterfowl Sanctuary
Ab-i-Estada
Designated
1977
270.00
IV
Dashte-Nawar
Designated
1977
75.00
II
Hamun-i-Puzak
Proposed
1973
350.00
IV
Kole Hashmat Khan
Proposed
1973
1.91
IV
Wildlife Managed Reserve
Darqad (Takhar)
Proposed
0.00
Not Reported
Dashte-Nawar
Proposed
0.00
Not Reported
Northwest Afghanistan
Proposed
0.00
Not Reported
Registan Desert
Proposed
0.00
Not Reported
Wildlife Reserve
Ajar Valley
Designated
1977
400.00
IV
Big Pamir
Designated
1978
577.00
IV
Major International Environmental Agreements :
| | |
| --- | --- |
| Conventions/Treaties | Ratified year |
| United Nations Convention on Law of the Sea | signed 1983 but no ratified |
| Kyoto Protocol | 2013 |
| Framework on Convention on Climate Change | 2002 |
| Convention of Biological Diversity | 2002 |
| Vienna Convention for the Protection of the Ozone Layer | 2004 |
| Montreal Protocol on Substances that Deplete the Ozone Layer | 2004 |
| Convention to Combat Desertification | 1995 |
| Convention on International Trade in Endangered Species of Wild Fauna and Flora | Date of enforcement: 1/28/1996 |
| Basel Convention on the Control of Transboundary Movements of Hazardous Waste and Their Disposals | 2013 |
| Comprehensive Test Ban Treaty | 2003 |
| Nuclear Non-Proliferation Treaty (1968) | 1992 |
Principal Environmental Laws
Pre-2001 legislation
Forestry Law of the Islamic Emirate of Afghanistan 2000
Islamic Emirate of Afghanistan Law for Land Ownership, 2000
Hunting and Wildlife Protection Law, 2000
Range Management Law, 1970/ 2000
Islamic Emirate of Afghanistan Law for Land Ownership, 2000
Post-2001 legislation
Constitution of the Islamic Republic of Afghanistan- 2003
Decree on the prohibition of hunting- 2005
Environmental Act – 2005
Ozone Regulations- 2006
Environmental Law- 2007
Water Law- 2008
EIA Regulations- 2008
Environmental Related Reports
Afghanistan National Development Strategy (ANDS) – Adopted in 2008
The National Capacity Needs Self-Assessment for Global Environmental Management (NCSA) and National Adaptation Programme of Action for Climate Change (NAPA)- 2008
Fifth National Report to the United Nation's Convention on Biological Diversity – NEAPA 2014