Director-General Ambassador Haidari Calls on HE President Rajapaksa to Discuss SACEP's Environment Programs
---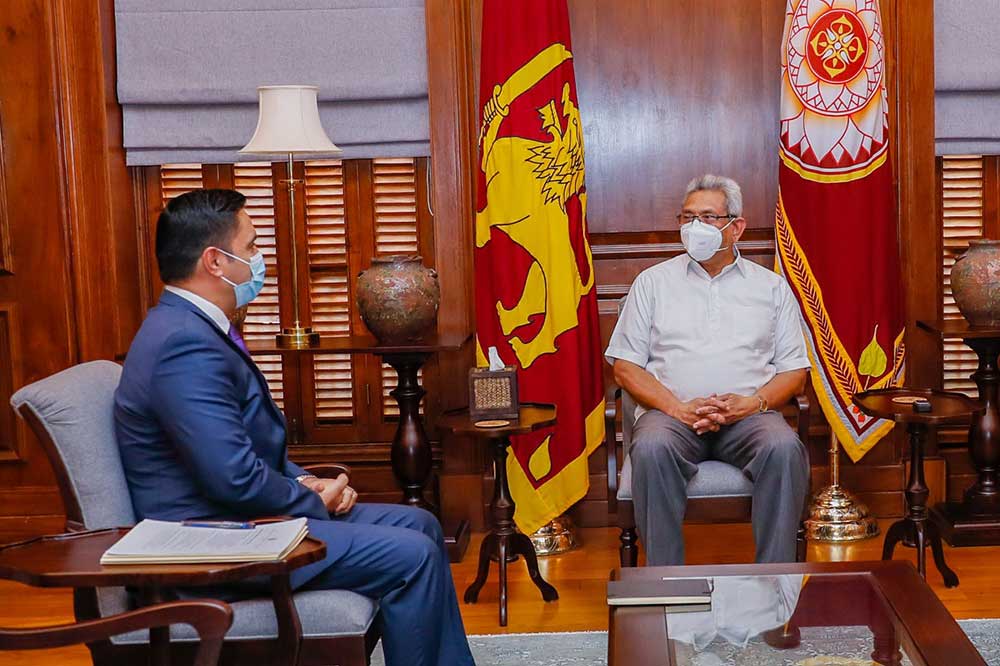 Colombo: - Director-General Ambassador M. Ashraf Haidari called on H.E. Gotabaya Rajapaksa, the President of Sri Lanka, one of the eight member-states of the South Asia Cooperative Environment Program (SACEP) and the host of the SACEP Secretariat, on April 20, 2021. As a part of his planned member-state visits, the Director-General briefed the President on the various programs and priorities of SACEP aimed at helping its member-states adapt to and mitigate the impact of climate change on South Asia as one of the most vulnerable world regions to the adverse effects of global warming.
Director-General Haidari appreciated the "nationally determined contributions" (NDCs) of the SACEP member-states to reduce national emissions, helping meet the global goals of the Paris Agreement. At the same time, he encouraged increased regional cooperation and coordination through SACEP to address the intertwined challenge of air, plastic, and nitrogen pollutions in South Asia that contribute to climate change. On the plastic pollution, he discussed SACEP's collaboration with the World Bank and Parley for the Oceans to implement the Plastic Free Rivers and Seas for South Asia (PLEASE) project at the cost of $50 million.
"Under the PLEASE project and with additional aid from the World Bank, SACEP looks forward to supporting Sri Lanka's Surakimu Ganga (Conserve the Rivers) Program," Director-General assured the President. He applauded H.E. President Rajapaksa's leadership and commitment to conservation and protection of South Asia's rich biodiversity and ecosystems, and recalled that the very idea of establishing a regional environmental protection organization originated from the late former Sri Lankan President Ranasinghe Premadasa in early 1980s. To that end, the Director-General thanked H.E. President Rajapaksa for honoring Sri Lanka's commitment to regional cooperation on environment by allotting a prime plot of land for SACEP to build its new state-of-the-art and environment-friendly headquarters office building in Colombo.
"With the financial support of our member-states and a generous grant from the World Bank and Parley for the Oceans, which have already been committed for this purpose, we should be able to build our new Secretariat building within the next one or two years," Director-General Haidari assured the President. Once done, the new SACEP Secretariat building will have adequate facilities for hosting regional and international conferences and workshops on environment, while showcasing the design of an environment-friendly building for emulation.
***