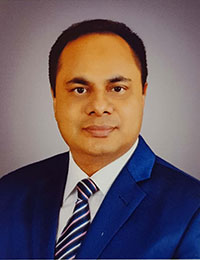 Dr. Md Masumur Rahman
Former Director-General
Tel: +94 11 2589376
Fax: +94 11 25893699
E-mail: director.general@sacep.org
---
Dr. Md. Masumur Rahman, nominee of the Government of People's Republic of Bangladesh assumed duties as the Director General of SACEP on 9th August 2021 for a non-renewable period of three years.
Prior to his assumption of duties as the Head of Mission of SACEP, he was the Director General of the Ministry of Foreign Affairs, Government of Bangladesh. Dr. Rahman joined the Bangladesh Civil Service in the year 1998. During his career, he performed his duties in different capacities such as Joint Secretary to the Government of Bangladesh in the Ministry of Public Administration (MOPA), Deputy Commissioner and District Magistrate (DC&DM) in the field administration of Bangladesh. He worked as a Private Secretary to the Hon'ble Minister for Environment, Forests and Climate Change and for the Food and Disaster Management Ministry. He also worked as Magistrate First Class and Special Magistrate to the government of Bangladesh in his early career.
During the time of working in the field administration he played a vital role to implement the government decision successfully specially as DCDM, he had the honour of receiving the "The Prime Minister's National Award on Tree Plantation for the year 2017".
In his academic career he did his Ph. D in Agroforestry and Environment from Bangobondhu Sheikh Mujibur Rahman Agricultural University (BSMRAU), Bangladesh. His research title was "Impacts of Climate Change on Wheat Production in Northwest Region of Bangladesh". He did a double Master's programme, one in 'Agroforestry and Environment' from the same University and another in 'Government and Politics' from the Asian University of Bangladesh. Dr. Rahman did his Bachelor Degree in 'Agriculture' from Sher-e-Bangla Agricultural University, Dhaka.
He attended a number of international conferences, trainings, meetings, workshops and seminars on different important issues held in Australia, Austria, Check Republic, China, France, Germany, India, Indonesia, Italy, Japan, Malaysia, Maldives, Morocco, Nepal, Philippine, Singapore, Spain, Sri Lanka, Thailand, United Kingdom (UK) etc.
He played animportant and significant role to coordinate the emergency response to managethe evacuees for their rehabilitation to come back in normal life duringworking in the field administration in Rampal, Bagerhat which was seriouslyaffected by cyclone CIDR.
During working in the Ministry of Foreign Affairs he made a very good liaison with different foreign missions in Bangladesh and different international organizations like FAO, WFP, USAID, UNDP, WB, JICA, ADB, UNEP, UNFCCC etc.